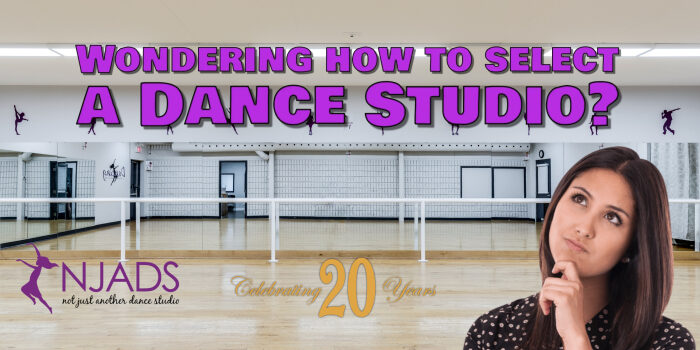 New to the world of dance? Selecting a dance studio for your child can be an overwhelming process.  There are so many options to consider, and each studio will have a different feel…the following questions will help to narrow down the choices, and find the right fit for your child and your family.
Why is Your Child Joining Dance?
Does your child love to move and be active? Do they shine when they are performing? Are they looking to make lifelong friends?  Do they want to increase their self-confidence?  There are many reasons why a student joins a dance class, the reason that your child wants to dance will aid is selecting the best dance studio for you and your child.  The studio you select may also change over time as their dance goals and dreams change.
Recreational Studios – Are great for students looking to make friends and be active.  You can register for classes once or twice a week.  There may or may not be a performance component (most offer a year end performance or "recital")
Competitive Studios – Some studios will offer a competitive component.  Students usually need to audition or be invited to join their competitive team.  Students often take several dance classes a week, usually in Ballet, and the style of dance that they are competing in.  They have the opportunity to perform throughout the year at competitions.  Ask if the studio competes locally, or out of town, what extra fees are associated such as costume fees, entry fees, team training fees, registration fees etc.
Conservatory – Often offers various genres such as dance, music, arts and theatre.  Often performing opportunities throughout the year in their large-scale productions.
What Style of Dance is your Child Interested in?
Find out what styles of dance the studio offers.  If your child is unsure which style of dance they would like to take, see if the studio offers a FREE trial class.
What is the Dress Code?
Some studios require a specific dress code.  Find out what the requirements are before your register.  The studio's stance on dress code will tell you a lot about the studio.  Some studios are more relaxed and only require dancewear in any style or colour be worn.  Other studios are quite specific, and will have a set requirement, such as black bodysuit with pink ballet tights for Ballet, or a crop top and shorts for jazz.  Also inquire if the style and colour of dance shoes are specified in the dress code.  Ideally you are looking for a studio that requires tight-fitting clothing such as a- bodysuit and tights, hair pulled back off the face, and no jewelry.
The Facility
Decide how far you are willing to travel to your child's dance class.  Is the location easily accessible? Is transit available, or ample parking?  Visit the school and assess its cleanliness.  What is the studio atmosphere like?  Are materials in good condition? (i.e. barres, mats, flooring).  Ask about the flooring in the dance studios.  A sprung floor is the best flooring for dancers to practice on.  A sprung floor will decrease the dance of ankle, spinal or leg injury, and enables the dancers to feel more secure when training and performing.  Ensure your child will not be dancing on concrete.
Read Reviews
Find out as much as possible about the studio online.  Facebook, Google, Parent Groups etc. are a great way to get a feel for the studio as a whole.  Check out pictures on the studio's website or social media to see if their costume choices are age appropriate and modest.
Looking to Join Our Dance Family?
If you are interested in having your child join our dance family, come visit us, or contact us today! amanda@notjustanotherdancestudio.ca or (905) 529-9885.