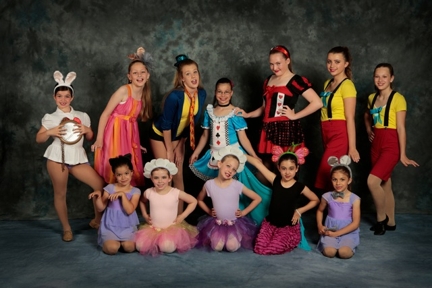 We offer our students performance opportunities during the dance season to work on their performance skills, and increase their self-confidence.
Elite Team Showcase
Our Competitive Team dancers take the stage in February each year, as a part of their preparation for the upcoming competitive season. There are many benefits to the Competition Team Preview Performance, some of which are as follows:
Dancers perform on stage prior to the competition season,
Students can learn proper spacing on the stage,
Friends and family can view all of your child's competition routines all at once,
Students can get pumped up and excited for the competition season with support from friends and family in the audience!
Purchase your tickets for our Saturday, February 4, 2023 performance online!
3pm Show Tickets 6pm Show Tickets
Recital – Act 1
Our Pre-Level and Level 1 classes perform in Act 1 of our Recital. This is a shorter section of the performance. This keeps the performance stress free for our little dancers, and the show usually runs for approximately an hour.
Recital – Act 2
The Annual Recital is held at the end of the Dance Season and allows students to show off their new skills for family and friends. Performing on stage will be a magical experience for your child, and is eagerly anticipated by our students. We typically do a production instead of the basic dance recital. We performed Cinderella in 2013, Alice in Wonderland in 2014 and The Wizard of Oz in 2017.
Dance with Me Performance
Our Dance with Me students will do an in studio performance (instead of performing onstage). This will ease our youngest dancers into performing for parents only, in a comfortable atmosphere that they are used to. They will perform in their usual dancewear, and there is no recital fee for this class.
Parent Viewing Week
You are invited to attend our Parent Viewing Week the last week of the Fall Session before our Christmas Break to watch your child performing their Christmas dance routine. Costumes are not provided (Students wear their normal dance wear, and may dress festively i.e. wear red skirt, a santa hat or antlers etc.). In lieu of tickets, non-perishable food is collected for The Hamilton Dream Centre Food Bank.
Other Opportunities
We also provide additional opportunities for our dancers to perform in our community at local retirement homes, festivals, sporting events, charity events etc.