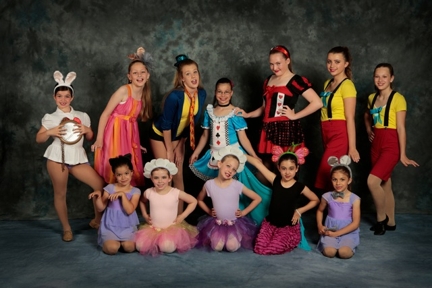 We offer our students performance opportunities during the dance season to work on their performance skills, and increase their self-confidence.
Parent Viewing Week
You are invited to attend our Parent Viewing Week the last week of the Fall Session before our Christmas Break to watch your child performing their Christmas dance routine. Costumes are not provided (Students wear their normal dance wear, and may dress festively i.e. wear red skirt, a santa hat or antlers etc.). In lieu of tickets, non-perishable food is collected for The Hamilton Dream Centre Food Bank.
Recital – Act 2
The Annual Recital is held at the end of the Dance Season and allows students to show off their new skills for family and friends. Performing on stage will be a magical experience for your child, and is eagerly anticipated by our students. We typically do a production instead of the basic dance recital. We performed Cinderella in 2013, Alice in Wonderland in 2014 and The Wizard of Oz in 2017. Our Costume Fee is payable for each class registered in. The Costume fee(s) are as follows:
Dance with Me – N/A as they do not have a performance.
Creative Movement for Tots $100.00
Pre-Level classes $100.00
Level 1 and 2 classes $110.00
Level 3 classes $120.00
Level 4 and 5 classes $130.00
What does the Costume Fee cover? The costume fee covers your child's costume, which is theirs to keep at the end of the event! As our gift to you, we provide two tickets to the performance per dancer, a NJADS cerftificate and sticker and a flower presented to dancers at the finalé!

Students must be registered for the full dance season to participate in the annual recital. Although we allow students to register per session, these students are not elligible to participate in the annual recital.
Recital – Act 1
Our Pre-Level and Level 1 classes perform in Act 1 of our Recital. This is a shorter section of the performance. This keeps the performance stress free for our little dancers, and the show usually runs for approximately an hour.
Creative Movement for Tots Performance
Our Creative Movement for Tots students will do an in studio performance (instead of performing onstage). This will ease our youngest dancers into performing for parents only, in a comfortable atmosphere that they are used to. They will still receive a costume, a 5×7 class picture, a certificate and sticker and a flower!
Other Opportunities
We also provide additional opportunities for our dancers to perform in our community at local retirement homes, festivals, sporting events, charity events etc.