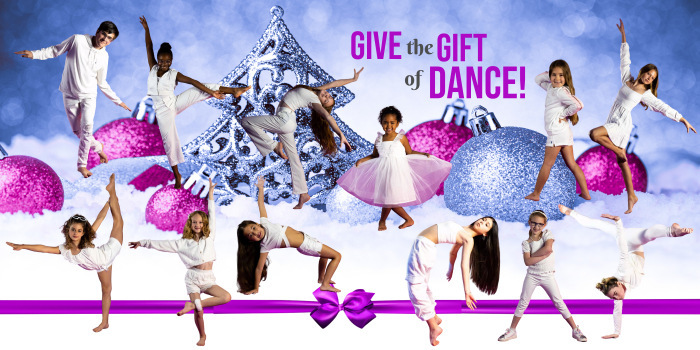 Choosing the perfect present for your children is tricky business, and it's even more difficult to find something you can be sure they'll love.  This season, change things up and give a unique gift that will stand out…give the gift of dance.  There are many benefits of giving an experience gift, but these are our top favourites.
1) Experiences Lead to Richer Memories
Perhaps the most obvious reason why experiences make such great gifts are the long-lasting, happy memories they provide (which are substantially greater than material objects).
While the newest and greatest toy may create a surge of short-term joy, we remember and nostalgically revisit the happy feeling of taking part in an experience for many years after it takes place. They will also get to relive the memories as they tell others about the experiences that they had at dance class.
2) Looking Forward to an Experience Makes Up Half the Fun!
We feel so much joy with experiences because they're such a drawn-out process.  Your child will be so excited when they find out about the gift, then the lessons last for several weeks or months.  Also, the eager anticipation waiting for classes to start can be nearly as exciting as the experience itself.
3) Gift Experiences are Social in Nature
Experiences initiate human connection.  Your child will be smiling ear to ear as they twirl and leap across the studio, but they will also get to meet new friends.  Many of the friendships made in dance class last beyond the years they take class together.  This is due to creating amazing, shared experiences and memories together, which helps form deeper relationships and makes your child happier long-term.
4) Get out of your comfort zone.
Experience gifts allow your child to try new things or something they've always dreamed about doing.  Even if they have taken dance before, you can have them try a new style of dance, attend a workshop or event.  Trying new things has also been linked to a healthier state of mind!  Plus, they will learn skills in dance class that last a lifetime, such as dedication, perseverance and team work.
A physical gift might seem more affordable in the moment, but there are other factors involved, too! When you're giving someone a gift, you want to create something special and show them how much you care while giving them something unique, impactful and lasting.