First, let me explain the difference between AcroDance and Gymnastics…
It is important to note that AcroDance is not the same as Gymnastics.  Obviously, we don't use the apparatuses that Artistic Gymnastics uses, but more importantly, there is a need to teach Acro skills differently from Gymnastics.  Consider the gymnastics floor routine, while it often used some required dance elements to showcase the gymnastic moves, dance is definitely secondary to the gymnastics skills, while tumbling takes the primary role.  AcroDance is the opposite.  Dance training is essential to the success of the Acro dancer.  Acrobatics showcases flexibility, balance and strength with less emphasis on tumbling, though still very much a part of it.
The other very important different in that AcroDance is performed on a hard stage without mats.  Gymnasts have the advantage of a sprung floor allowing for much more difficult tumbling.  In Dance we use a sprung dance floor, and mats when training, and then teach our students to safely perform these tricks on the stage.
Acro is the combination of gymnastics and dance movement.  In Acro, the emphasis is on teaching our students to dance into and out of Acro tricks, with minimal obvious "prep" before and after a trick. Despite being technically difficult to execute, acrobatic tricks are meant to blend in seamlessly with dance steps, providing an extra level of excitement and flair to dance choreography.
How to accelerate your child's Acro learning…
Solid training in Ballet and Jazz is essential to your dancer's success.  In gymnastics, athletes train a huge number of hours per week for many years in order to safely train aerials and back handsprings.  We are trying to accomplish the same skill, on a hard floor and in 1 hour of dance per week. Every second of our class time counts, so it is beneficial for students to learn other dance skills/steps in other technique classes.  This is why we highly recommend taking a JAZZ DANCE CLASS for dancers enrolled in Acro who wish to excel.
The chart below shows the approximate number of training hours for dancers wishing to participate in Acro Exams through our studio's Acrobatic Arts Acro Exam program: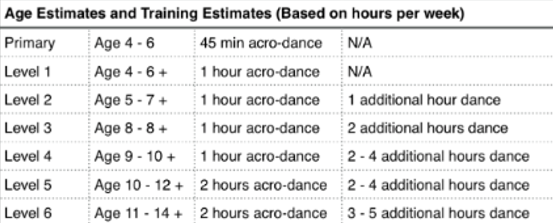 If you would like to register your child and need help selecting a dance class that would complement their acro class, we are here to help.  Keep Dancing!