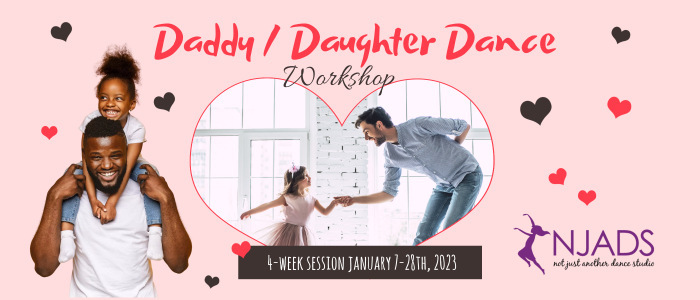 Daddy/Daughter Dance class
Instructor: Natalie Zakrajsek
At Not Just Another Dance Studio we believe in creating positive experiences and memories that will last a lifetime! The Daddy/Daughter Dance is a wonderful opportunity for Dad to spend quality time with his daughter. Together they will spend time at rehearsal and working through choreography. The memories in class, in fact, are as significant as performing the actual dance on stage in front of an audience. This is a unique time for you to spend with your daughter!
The performance will occur on Saturday, February 4th during the NJADS Showcase held at the Ancaster Memorial Arts Centre (time TBA). For the performance dancers will need a red dress and the dad's will need black dress pants, and a white dress shirt. Participants are to supply their own outfits for the performance.
Dancers must be 4 years of age by January 1st in order to participate in the Daddy/Daughter dance. We encourage siblings to participate! Dads can dance with up to 3 daughters ($10 for each additional child in the family).
The non-refundable fee to participate is $88.50 + HST. Pricing is non-refundable, and covers 1 dancer and 1 caregiver (dad, stepfather, grandfather or other significant men in the dancer's lives) for all of the rehearsals. MAKE SURE DAD KNOWS THE REHEARSAL AND PERFORMANCE DATES/TIMES AND IS FULLY COMMITTED BEFORE SIGNING UP AS THE FEE IS NON-REFUNDABLE.
Saturday, January 7, 2023 from 8:45-9:30am
Saturday, January 14, 2023 from 8:45-9:30am
Saturday, January 21, 2023 from 8:45-9:30am
Saturday, January 28, 2023 from 8:45-9:30am
The Daddy/Daughter Dance is great fun, but dance is also difficult. The rehearsals and performance will be challenging, involve a total of 3 hours of rehearsals (weekly 45-minute class for 4-weeks), and may involve lifting your child. If you have any back problems or physical conditions that you feel may hinder you from participating, please contact us before you sign up for the Daddy/Daughter Dance.
Everybody on stage depends on everyone else to put on a great show. Participants must attend all rehearsals to learn the dance (1 absence is permitted, however we recommend attending for all 4 classes). All rehearsals are "Closed Rehearsals," meaning friends and family may not watch the Daddy/Daughter rehearsals.