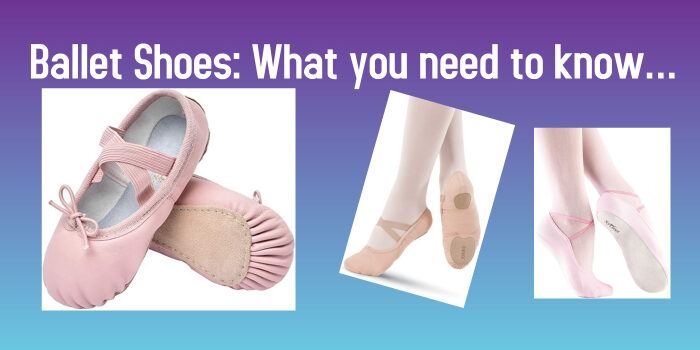 Ballet slippers come in several types of material:
Choosing the right soft ballet shoes
Selecting the correct dance shoe, and wearing them to class is important.  Although they are not mandatory for class, they are highly recommended as they will help you develop a proper technique and help prevent injury to the foot.  If you will not be wearing dance shoes to class, please dance in bare feet to prevent slipping.
Satin shoes are usually only used for shows or performances as they are not very durable and are difficult to clean.  A canvas ballet shoe allows the foot to arch better and gives you more feel for the floor.  A good option for the beginner dancer is the leather shoe, as it is longer lasting, and the fact that they require the dancer's foot to work harder to stretch which helps develop the strength of the muscles in the feet and legs.
The next thing to consider with soft ballet shoes is whether you want a full sole or split sole ballet shoe. The full sole ballet shoe is recommended for the beginner as the full suede sole extends all the way down the base of the shoe giving extra support to the foot as it arches giving a more pointed foot.  A split sole ballet shoe normally used by a more experienced dancer gives more flexibility and are easier to break in more quickly.
A proper fitting ballet shoe is not the same as fitting normal street shoes. The toes will always be at the end of the ballet shoe with any extra room being at the back of the shoe and down the sides of foot. It is important that the shoe fits like a glove as too much extra room will not show a proper arch and it is important for your dance teacher to see the shape of your foot while performing. It is equally important that the shoe is not too tight and whilst standing in your new ballet shoes, your toes must not be scrunched up at the end of the shoe and there must be no pain but must be snug. Both leather and canvas ballet shoes will stretch slightly and mould to the shape of your foot.  It doesn't matter which foot you put your ballet slipper on…the shoes will mould to you the shape of your foot as you wear them in.